Banks hit hard as US shares close lower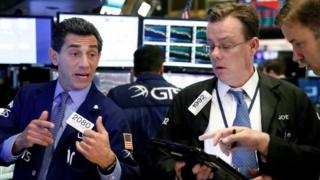 Wall Street closed down, with banks falling sharply as renewed worries about North Korea pushed investors away from equities and towards bonds and other safer investments.
The Dow Jones fell 1.1% to close the first session after the holiday weekend at 21,753.3 points.
The broad-based S&P 500 shed 0.8% to end at 2,457.8, while the tech-rich Nasdaq dropped 0.9% to 6,375.5.
Large banks were hammered as investors fled into US Treasury bonds.
Bank of America lost 3.3%, Goldman Sachs shed 3.6%, and JPMorgan Chase was 2.4% lower.
At the weekend, North Korea carried out its sixth nuclear test.
US markets were closed on Monday for the annual Labor Day holiday, but when trading restarted on Tuesday the three main indexes started falling immediately.
Hurricane Irma, days away from the US coast, hit shares in insurers were exposure to Florida.
But home-improvement retailers Lowe's and Home Depot both climbed more than 1%. The chains typically see a jump in sales as a result of storms.
Aircraft parts supplier Rockwell Collins rose 0.3% following the announcement it had agreed to be bought by conglomerate United Technologies for $30bn.
But Dow member United Technologies fell 5.7%, with declines accelerating after Boeing, a customer of both companies, suggested it could try to prod regulators to block the deal. Boeing fell 1.4%.
Toy companies Hasbro and Mattel lost 2.9% and 1.6%, respectively, after Danish toy giant Lego announced it would slash 8% of its global workforce after a drop in sales in the US and Europe.