FTSE 100 dips as N Korea fears persist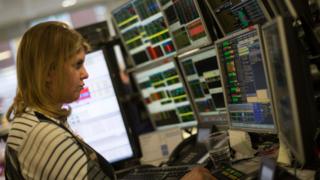 The FTSE 100 started the week with a stumble amid fears over unrest in Asia, following North Korea's test of a nuclear bomb at the weekend.
The index ended Monday's trading down 27.03 points or 0.36% at 7,411.47.
Mining stocks were some of the biggest risers, with Fresnillo up 2.9% and Randgold Resources gaining 2%.
Analysts said the rise was driven by a rush to safe-haven stocks in the wake of the geopolitical tensions, with the price of precious metals up sharply.
The underlying gold price is at its highest level in almost a year.
Traditionally precious metals such as gold and silver are seen as safe investments when there is financial or political turmoil.
Nonetheless, Connor Campbell, financial analyst at spread betting firm Spreadex, noted the FTSE had managed to stay above the 7,400 level it had reached again last week.
"North Korea's latest nuclear naughtiness has sent another ripple of fear through the markets this Monday - as has the US threat of a 'massive military response' and South Korea's own show of (simulated) force," he said.
"However, with the increasing regularity of such tests, and the USA's Labor Day holiday, the edge has been taken off the European losses."
On the currency markets, the pound was flat against the dollar at $1.2952 and also 0.42% lower against the euro at 1.0875 euros.