McDonald's hit by first UK industrial action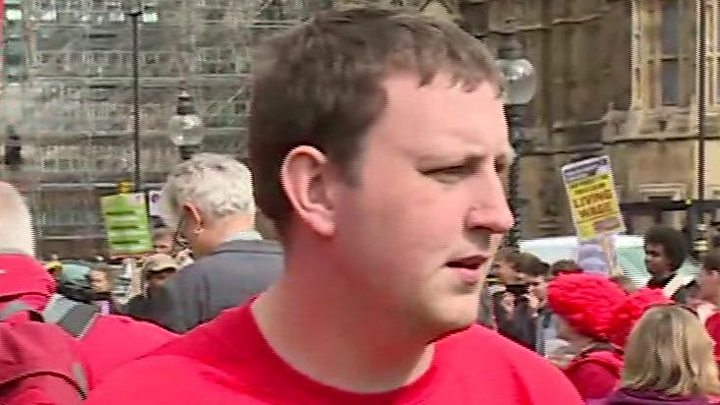 McDonald's workers are staging their first UK strike after walking out at two stores in a dispute over zero-hours contracts and conditions.
Some workers at Cambridge and Crayford, south-east London, began the 24-hour action at midnight. A union called it a "brave" move by low-paid staff.
The Bakers, Food and Allied Workers Union said staff wanted a wage of at least £10 an hour and more secure jobs.
McDonald's said only 14 of the 33 union members balloted had joined in.
"A small number of our people representing less than 0.01% of our workforce took strike action in two of our 1,270 UK restaurants," said the company.
"As per the terms of the ballot, the dispute is solely related to our internal grievance procedures and not concerning pay or contracts."
But Ian Hodson, the union's president, disputed that.
"For far too long, workers in fast food restaurants such as McDonald's have had to deal with poor working conditions, drastic cuts to employee hours, and even bullying in the workplace - viewed by many as a punishment for joining a union," he said.
Hours cut down
Speaking to the BBC, at a union protest near the Houses of Parliament in London, two of the striking McDonald's employees outlined their grievances.
Shen Batmaz, who serves customers in the company's Crayford branch, said that being on a zero-hours contract meant that some staff were anxious about going to work because they feared being bullied.
"Zero-hours contracts are the reasons why bullying managers can cut down on our shifts drastically," she said.
"When we had a bullying business manager in, when I stood up to him my hours were cut down from four days a week to one.
"A friend had the same shift pattern for five years but when he stood up to the bullying manager, he was cut down from five days a week to one," she said.
Steve Day, a McDonald's worker from Cambridge, said encouraging his colleagues to join the BFAWU and go on strike had been very difficult and 10 staff out of about 90 had travelled to the protest in London.
"We have had managers from everywhere coming into our store, the place has been crawling with them, our main organiser in Cambridge is followed everywhere, it's like we are being policed," he said.
What's it really like to work at McDonald's?
'Everything I needed to know I learned in McDonald's'
Three pay rises
McDonald's, which employs about 85,000 people in the UK, announced in April that workers would be offered a choice of flexible or fixed contracts with minimum guaranteed hours, saying that 86% had chosen to stay on flexible contracts.
And it pointed to a series of pay rises as evidence that it treated its staff well.
"McDonald's UK and its franchisees have delivered three pay rises since April 2016, this has increased the average hourly pay rate by 15%," said the firm.
The union has taken advice from protesters in the US and New Zealand who have campaigned for better conditions at McDonald's there, Mr Hodson said.
The staff have also won backing from Labour leader Jeremy Corbyn.
"Our party offers support and solidarity to the brave McDonald's workers, who are making history today," he said.
"Their demands - an end to zero hours contracts by the end of the year, union recognition and a £10 per hour minimum wage - are just and should be met."