Bank policymaker Michael Saunders urges higher rates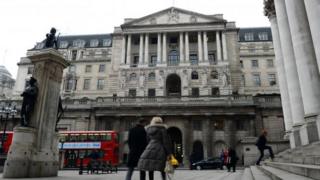 A key member of the Bank of England's interest rate-setting Monetary Policy Committee (MPC), Michael Saunders, has said "a modest rise" in interest rates is needed to curb high inflation.
In a speech in Cardiff, he said it would "help ensure a sustainable return of inflation to target over time".
Mr Saunders said the Brexit process "might be bumpy".
However, he added that the Bank "should not maintain an overly loose stance as insurance against this scenario".
"Rather, we should be prepared to respond as needed if it happens."
The UK's key measure of inflation, the Consumer Prices Index (CPI), was 2.6% in July.
The MPC's main task is to achieve a 2% target for CPI, as set by the government.
Terms 'have shifted'
Mr Saunders, formerly the head of European economics at the US-based bank Citigroup, has been one of the nine MPC members since August last year.
Like his predecessor Martin Weale, he has often favoured higher interest rates.
In his speech, Mr Saunders said: "We do not need to be putting the brakes on so much that the economy weakens sharply.
"But our foot no longer needs to be quite so firmly on the accelerator.
"In the exceptional circumstances since the EU referendum, the MPC has sought the appropriate trade-off between above-target inflation and below-potential output," he said.
"The terms of that trade-off have shifted markedly in recent quarters. Inflation has risen well above target, while spare capacity in the economy has been absorbed faster than expected.
"The jobless rate is now slightly below our estimate of equilibrium. The prospective trade-off is beyond my limits of tolerance, with the likelihood of an early elimination of slack and an extended period of above-target inflation."