Movies go back to the future to revive box office sales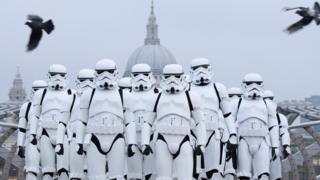 Is it ironic or pure chance that the film industry is looking to movies that were first shown in the 1970s and 1980s to revive box office receipts in 2017?
Set 30 years after the original, Blade Runner 2049 will be released in October.
Meanwhile, Star Wars: The Last Jedi, the eighth film in a franchise that is four decades old, will be shown in December.
Traditionally, sequels do not make as much money as their originals, according to Richard Cooper, research director at Ampere Analysis.
However, the way the film industry is performing so far this year, it needs all the help it can get.
According to figures from Box Office Mojo, a website that monitors film receipts and cinema attendance, this summer has been damper than a blade runner's raincoat.
Only 208 films have been released in the US during the summer, down from the usual quota of about 250.
At $3.5bn (£2.7bn) so far this summer, total gross box office receipts are the worst since 2005, when another Star Wars film, Revenge of the Sith, was the year's biggest draw.
Although the summer season isn't over yet - this key period for the movie industry runs from the first Friday in May to Labor Day on 4 September - it is doubtful enough people will go to the cinema to compete with the same months in 2015 and 2016, when gross box office takings reached $4.4bn in each year.
This last weekend in the US was the worst at the box office since September 2001. "No need to sugar-coat it, this was a miserable weekend," said Box Office Mojo.
Cinema attendance is down 52% compared with last year at 385 million people, the poorest figure since Michael Keaton squeezed himself into rubber for Batman Returns and took on Michelle Pfeiffer's Catwoman in 1992.
Studio strategy
Mr Cooper says there are a number of reasons for the dip.
Firstly, he says: "There has been a change in terms of the movie studios' strategies. They are starting to look at the long-term life of a film."
So instead of relying solely on the big screen, studios also want the film to make money on the small screen through pay-TV.
What that means is that a blockbuster is released earlier in the season - such as this year's summer smash, Wonder Woman, which hit cinemas in May - so it can make it into homes while it is still riding the wave of success.
Mr Cooper also points out that this year's crop of films have found it hard to compete with the previous two years' stellar slate of movies.
Although the biggest grossing films in the summers of 2015 and 2016 were sequels, they drew the crowds in the US and overseas because, says Mr Cooper, "action films translate well internationally rather than drama which may have subtle nuances".
Last year, Finding Dory, a sequel to Finding Nemo, grossed $486.2m, while Captain America, Civil War, the third film in the series, took $408m. The year before, Jurassic World took $652.2m.
All is not lost for 2017.
As well as Star Wars and Blade Runner 2049, cinemagoers can look forward to having the life scared out of them by Pennywise the clown when Stephen King's It hits screens in September.
Should the movie studios be panicking about this data? "It isn't bad enough to panic," says Mr Cooper. "But it will raise some eyebrows."