Mini electric car design revealed by BMW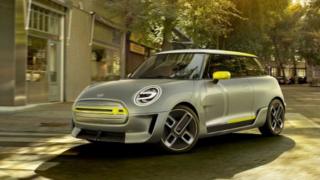 German carmaker BMW has unveiled the basic design for the full-production electric version of the next Mini car.
In July, the carmaker confirmed the fully electric version of the three-door Mini would go into production at its Cowley plant in Oxford in 2019.
A Mini E electric car was launched in 2008 for extensive field trials.
The new Mini Electric will be unveiled at the Frankfurt motor show next month. BMW says it will have "a powerful electric motor".
However, no other technical details are available. Similarly, the concept does not contain an interior.
About 360,000 Minis are made each year, with more than 60% of them built at Oxford.
'Recognisable'
The car's drivetrain - which includes the motor, gearbox and battery pack - will be assembled in Germany and fixed to the rest of the car in the UK factory.
"The new Mini Electric concept is instantly recognisable from the front by its hexagonal radiator grille and circular headlights," says BMW.
The car will debut at the Frankfurt Motor Show and go on display from Saturday 16 September.
BMW plans that electrified vehicles will account for between 15-25% of its sales by 2025.
BMW employs about 18,000 staff in the UK, including 4,500 at the Mini plant at Cowley.
The UK is still the biggest market for Minis, accounting for 20% of worldwide sales.