Could English wine conquer the world?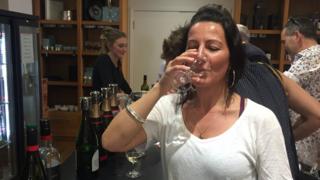 France, Italy and Spain are some of the world's best known wine producing countries but could a growing English wine making industry ever threaten their dominance?
At English winemaker Chapel Down the opinions of a group of tourists sampling the various wines it produces are mixed.
"A bit bitter," is Toronto tourist Lucy Fernandez's take on the vineyard's Flint Dry white wine.
She says Canadians are open to drinking wines from all over the world, but she wouldn't buy this variety.
However, Andrew from Adelaide has tried the Bacchus 2016 white and says it "compares quite well" to wines he's used to back in South Australia.
Beatrice Ness, a teacher from Paris, has sampled a sparkling variety, arguably what the Kent-based vineyard is best known for, and is clearly impressed.
"This is as good as Moet champagne," she says of the Three Graces 2011, costing £29.99 a bottle.
"We buy a lot of foreign wines in Paris and I think people would go for this."
Growing industry
It's no secret that English wine-making has taken off over the last decade, with industry sales hitting a record £130m .
However, while around four to five million bottles are produced each year, less is said about UK exports, which stood at just 250,000 in 2015, the most recent year for which figures are available.
Despite the small scale of the export industry, its reach is growing.
English sparkling wines were shipped to 27 markets last year compared with 19 in 2015, official statistics show.
With more UK land being used for grape growing, and the industry targeting exports of 2.5 million bottles by 2020, could the country be on track to becoming a serious wine producer on the world stage?
Chapel Down's chief executive, Frazer Thompson, urges caution.
He says the firm has seen "consistent growth" over the last seven years and is tapping a wider range of markets, from North America to South East Asia.
Like most English winemakers, the majority of his exports are of sparkling wines, which account for just over half of the firm's production.
But he points out that exports are only a "part of the story" and the firm is still largely focused on the UK, one of the world's biggest wine markets.
"In the rest of the world there is potential but you need a dose of realism," he says. "It took the French 350 years to export 50% of their champagne and the UK is their largest market."
Producers tend to see certain international markets as better bets than others, preferring places that like wine but don't have huge domestic industries of their own.
France, Italy and Spain are "hard work", says Bob Lindo, who founded the Cornish winery Camel Valley with his wife Annie in 1989.
But countries such as Japan, China and the US, which is his biggest market, buy much more.
"We are sold in 23 US states now," Mr Lindo says. "There are a lot of parts of America that don't grow wine and there's a very enthusiastic wine culture."
Helpfully, English wine has shed its once negative reputation and is doing well in major competitions such as the Euposia International Challenge (Bollicine del Mondo) in Italy, which attracts sparkling wines from around the world.
Organiser Carlo Rossi says English brands regularly make the top 10 in various categories, with wine producers Nyetimber, Hambledon and Camel Valley all having won golds in the recent past.
"About 10 years ago it seemed a joke that the English could make excellent sparkling wine, but there has been a surge in interest," he says.
Chapel Down's Mr Thompson believes better marketing is the key to exposing the talent in the industry.
He notes how countries such as France play on the fact they are associated with producing fantastic food and drink, "so we buy French, even their lager which isn't actually that good".
"So England needs to sell itself as a quality producer of food and drink, which it still doesn't do well enough and wine can be a flag-bearer."
Not everyone is convinced about English wine, though.
Malcolm Gluck, a British wine critic who has penned numerous books, says there is a "marvellous conspiracy" among winemakers and writers to pretend English wine is great.
"There are English wines that are interesting that cost £12-15," he adds. "But they cost two to three times more than comparable wines from South America or France, Italy and Spain."
There are other barriers to building a world-beating wine industry, including a shortage of land suitable for grape growing and high set-up costs.
The English climate also limits production mainly to the south of England, although rather perversely, things could improve in that respect because of global warming.
A study last year by climatologists at UCL suggested rising temperatures and rainfall could let vineyards thrive as far north as Elgin near Inverness by 2100.
They also claimed the Thames estuary would become warm enough to grow Malbec grapes.
---
Global Trade
More from the BBC's series taking an international perspective on trade:
Is time up for plain vanilla flavour ice creams?
What makes this Kate Spade bag unusual?
Where's hot? This summer's most popular holiday spots
Read more global trade series here.
---
Camel Valley's Mr Lindo believes exports will increase gradually as the reputation of English wine flourishes but he's not chasing them. He says he is busy enough catering to restaurants and supermarkets up and down the UK.
He also thinks we should not judge the industry's success by its scale.
"A lot of City money is going into English wine and there is a risk it will become too commercialised," he says.
"You have to be really committed to run a vineyard, but if the market gets flooded, producers who have been here from the start will suffer.
"There's also been a lot of cooperation between English producers and I don't want it to stop."