Mitie investigated by Financial Conduct Authority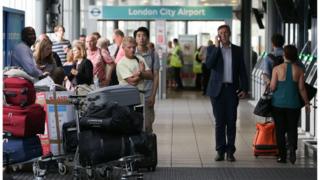 UK outsourcing group Mitie has said it is under investigation by the Financial Conduct Authority (FCA) over the timing and content of a profit warning.
Mitie said it was told by the FCA last Friday and was "fully co-operating" with the financial regulator.
The profit warning sent shares in Mitie tumbling by a quarter when it was released in September last year.
The firm said at the time that Brexit uncertainty and other "economic pressures" would lead to lower profits.
Mitie is one of the UK's largest outsourcing groups, offering services to clients such as the NHS and London City Airport.
The provider of pest control, cleaning, healthcare and security services, which employs more than 50,000 people, issued three profit warnings last year.
It parted with longstanding chief executive Ruby McGregor-Smith in October.
Company accounts
Under new boss Phil Bentley, it carried out an accounting review which led to it reporting a £43m loss for the year to the end of March 2017 and re-stating its profits for the previous year.
The firm said the FCA had "commenced an investigation in connection with the timeliness" of the September profit warning.
The regulator is also looking into "the manner of preparation and content of the company's financial information, position and results for the period ending 31 March 2016", Mitie said.
The firm added that it did not intend to update investors further until the investigation was completed.
It is the second investigation into Mitie's accounts in the space of a month.
The UK's accountancy watchdog, the Financial Reporting Council, opened a probe at the end of July into Deloitte's auditing of Mitie's accounts for the years ending 31 March 2015 and 2016.
Shares in Mitie initially fell about 1% on Tuesday but erased those losses in afternoon trading.
---
Analysis
By Dominic O'Connell, Today business presenter
The FCA investigation is a blow to the reputation of one of the government's favourite business people - Ruby McGregor-Smith, now Baroness McGregor-Smith.
She was chief executive at Mitie for nine years, making it a stock market darling and one of Britain's largest employers.
The profit warning the financial watchdog is looking into happened on her watch - it came in September last year, and the company announced her departure a month later.
She was made a Conservative life peer a year earlier, and has completed an influential official review into the obstacles faced by black and ethnic minority executive talent.