Rise in victims of uninsured drivers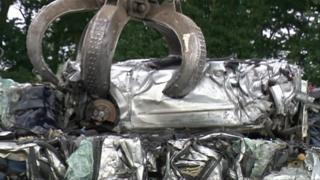 The body that compensates victims of uninsured drivers is facing its first rise in claims for more than a decade.
The Motor Insurer's Bureau, which acts on behalf of the industry, is looking at why they have increased.
In the year to July, cases submitted to the MIB rose by almost 10% to about 12,000 after declining since 2004.
This year, the MIB expects to pay out £256m from money provided by insurers, a cost that adds an average of £15 to each motor premium.
Reasons for the rise could include more uninsured driving on UK roads, but increases in the number of drivers and the effect of claims management companies may also be a factor.
The MIB's chief executive, Ashton West, told the BBC: "In the last year or so, for the first time in a decade or more, we are starting to see the trend of reduction actually change direction, and we have started to see it increase."
Thousands of cars seized
The number of claims from victims of uninsured or hit-and-run drivers had fallen from around 25,000 in 2004 to just under 11,000 last year, before the 2016/17 rise.
Police seizures of uninsured vehicles are also on the increase.
According to MIB data, 145,000 were taken off the road in 2016, a rise on the year before.
Approximately 58,000 were crushed - a rate of more than 1,000 a week.
The MIB operates the insurance database used by police forces to check the status of vehicles being driven.
This system is linked to automatic number plate recognition cameras installed in police cars and at static locations.
Police have the power to seize a vehicle if it is confirmed that it is being driven without proper cover.
"It's early days, it's difficult to know exactly why, but we've seen insurance premiums rise in recent times and it's possible there is a link between the cost of insurance and people's propensity to drive without insurance," said Mr Ashton.
'Bombshell'
Last month, the Association of British Insurers warned the cost of motoring premiums could rise further following rises in Insurance Premium Tax.
Changes to the way compensation is calculated for victims of life-changing injuries - known as the discount rate - have been described as a "bombshell" for motorists.
ABI director general Huw Evans said: "With inflation on the rise, motor premiums at a record high and the public purse under pressure, it's concerning that the government have yet to commit to delivering a fairer system for setting the personal injury discount rate".
The organisation says average cost of car insurance for a driver aged between 18-20 is £973. The rate falls off with the age of the driver so for someone aged 46-50 the average cost is £354.
A policeman's tale
PC Steve Lee's colleagues call him Hashtag because he frequently Tweets about his job as a roads policing officer.
Driving around Norwich, the screen on his dashboard constantly brings up number plates harvested by the on board automatic number plate recognition cameras attached to his patrol car.
There are also static cameras at undisclosed locations around Norfolk and his control room will relay details of vehicles being driven without insurance nearby.
Before long an electronic voice from the on-board system announces the word "alert" after clocking a passing car.
On older versions of the system, it was "yabba dabba doo".
We follow a Citroen Picasso into a nearby cul-de-sac where the driver claims he obtained cover the day before, when he purchased the vehicle.
PC Lee checks with the MIB and confirms the car isn't insured and it is towed away.
The driver is given a deadline to pay a fine and obtain insurance to get the vehicle back, or it will be auctioned off or crushed.
In July, 324 vehicles were seized from uninsured and unlicensed drivers by the Suffolk and Norfolk Roads Policing Unit.
Of these, approximately 130 will be sent to the scrap yard because the owner didn't pay up.