FTSE 100 ends higher as Provident dives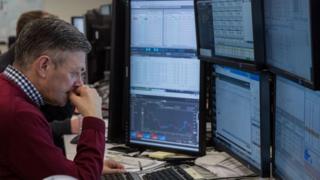 Shares in doorstep lender Provident Financial crashed by 66% on Tuesday as it issued a profit warning.
It says it expects to make losses of £80m to £120m as its debt collection rates have dropped to 57% compared with a previous rate of 90% in 2016.
At the close, the benchmark FTSE 100 share index was up 62.86 points, or 0.86%, at 7,381.74.
Biggest gainer was grocer Tesco, up 4.1%. Miners Rio Tinto and Glencore were up by 2.4% and 2.1% respectively.
Other losers included insurer Admiral, broadcaster ITV and security firm G4S.
On the currency markets, the pound was down 0.44% against the dollar at $1.2843 and flat against the euro at 1.0913 euros.