Wall Street mixed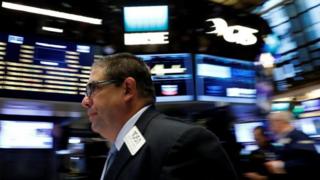 US markets were mixed on Monday, holding steady after two weeks of declines.
Investors have been cautious in recent weeks, wary after share prices touched record highs earlier in the summer.
More recently, geopolitical tensions with North Korea and domestic political fights have triggered losses.
On Monday, the Dow Jones rose 0.13% to 21,703.75. The wider S&P 500 index climbed 0.12% to 2,428.37 while the Nasdaq slipped 0.05% to 6,213.13.
Sectors such as property and telecommunications rose, while energy and financial firms were lower.
Shares of companies that rely on trainer - or sports shoe - sales were also among those whose share prices took a hit on Monday.
Sportswear giant Nike fell 2.4%, while its smaller rival Under Armour was down 3.1%. Foot Locker tumbled 7.5%, continuing to fall after a disappointing earnings report last week.