Sports Direct profits more than halve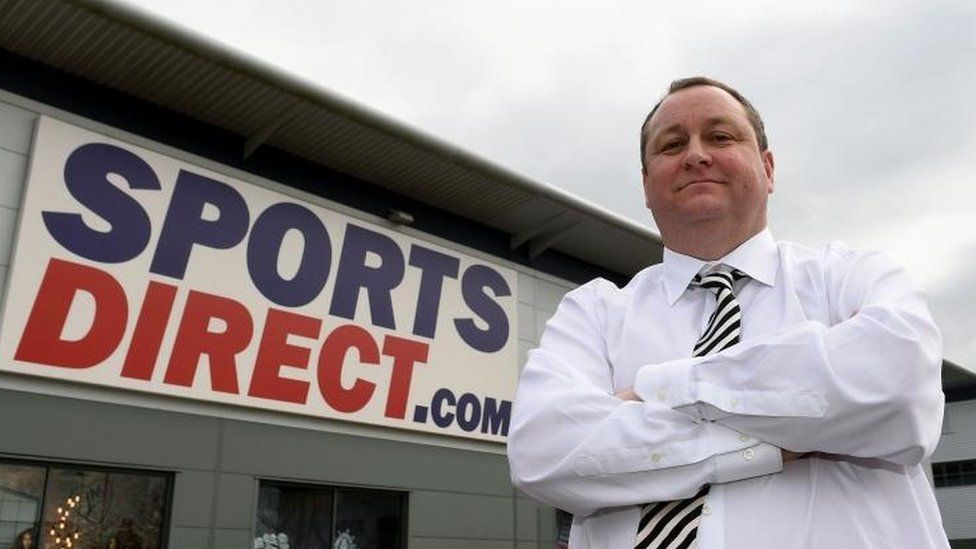 Profits at Sports Direct have plummeted nearly 60%, which the retailer said was largely due to the weaker pound.
The slide in sterling means the firm has had to pay more for its imported goods, and its underlying pre-tax profit fell to £113.7m from £275.2m.
However, chief executive Mike Ashley said trading at its new "flagship" stores was going well.
Sports Direct's reputation has been badly hit by revelations about staff conditions at its Derbyshire warehouse.
Chairman Keith Hellawell said the company had made "positive progress" across the business as it continued to "strive to ensure that all of our people are treated with dignity and respect".
A recent survey of workers in Shirebrook, to which 3,300 people responded, had showed that an "overwhelming majority" of people in the warehouse "currently feel they are treated with respect", he added.
Staff had elected the company's first UK workers' representative and Mr Hellawell said he had "no doubt" their "contribution will prove invaluable to the board as the Sports Direct family continues to move forward together".
Sports Direct, which has been without a chief financial officer since last October, also said it had appointed Jon Kempster to the role. Mr Kempster is set to join the company on 11 September.
Mr Ashley said Sports Direct was trying to "conservatively manage the currency volatility that is reflected in our full year results".
Sports Direct imports many of its products from abroad and the pound's fall against the dollar had led to a "significant fall in profits", he added.
However, he said the company had now put in place hedging arrangements to "minimise the short-term impact of currency volatility".
The company's key strategy is to turn itself into the "Selfridges of sport", and Mr Hellawell said the "elevation of our retail proposition continues to be a key objective".
Sports Direct said it was forming a "new strategic partnership" with sportswear firm Asics.
The Japanese company will manage dedicated areas within Sports Direct's new upmarket "premium" stores.
Neil Wilson, senior market analyst at ETX Capital, said this had been a "transformational" year for Sports Direct.
Progress was being made on the new premium stores, he said, and they were "a lot more profitable than the existing Sports Direct stores".
The retailer's shares rose by 6% following the release of the results as investors appeared to welcomed the progress it was making to move upmarket.
In recent months, Sports Direct has bought 26% stake in Game Digital, increased its stake in Debenhams, acquired lingerie firm Agent Provocateur and snapped up the US sports clothing and outdoor equipment chains Bob's Stores and Eastern Mountain Sports.
The company's "spending spree on acquisitions" had affected profits, Mr Wilson said.
"That's something to bear in mind when we're looking at these figures and also what that does is it puts Sports Direct in a better position to make a strategic move in, for example, the department store area or in the US with its US acquisitions."
Analysis: Katie Prescott, Today business presenter
It doesn't look good on paper. But for analysts watching the company this seems like the beginning of the end of a difficult period for Sports Direct.
Financially, it's now protected against a further drop in the pound. Better late than never.
Reputationally, the damage it suffered from its alleged Dickensian treatment of workers is being addressed with a worker on the board of the company.
It's smartening up its shops and restating its goal to be the "Selfridges of sport".
The monkey isn't quite off its back. Chief executive Mike Ashley is still facing a court case about a £15m pub bet, which is generating colourful headlines.
But as the chairman ends his statement by saying, Sports Direct has been a big contributor to the UK economy with thousands of jobs and billions in tax.