FTSE climbs on French election result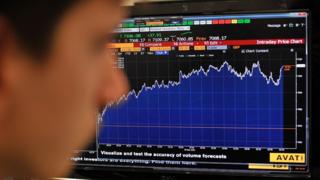 The FTSE 100 followed other European stock markets higher after the success of Emmanuel Macron's party in the French legislative elections.
The benchmark index ended the day up 60.27 points, or 0.8%, at 7,523.81.
That was while its European peers the French Cac 40 and German Dax rose by 0.9% and 1%, respectively.
Analysts said investors viewed the French President's comfortable majority as a return to political stability in one of the EU's largest countries.
"France's economy didn't fare too well under Francois Hollande, and investors are optimistic about the new French leader," said David Madden, an analyst at CMC Markets.
Sainsbury's was one of the day's best performers, following reports it is in talks to buy convenience store chain Nisa.
Shares in the UK's second-largest supermarket rose 2.3% after reports it had made a bid of £130m for the chain, which has 3,000 stores.
In the FTSE 250, Ocado jumped 11.1% on talk that it could become a bid target.
Credit Suisse said last week's announcement that Amazon was buying Whole Foods increased the likelihood of Ocado being a takeover target. Separately, analysts at Exane raised their rating on Ocado to "outperform".
On the currency markets, the pound fell 0.3% against the dollar to $1.27370 and was flat against the euro at 1.14200 euros.