Dakota Access Pipeline needs more review, judge says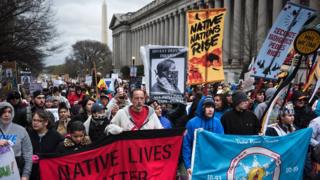 A US judge has ordered the government to conduct further environmental review of the impact of the controversial Dakota Access Pipeline.
The chairman of the Standing Rock Sioux Tribe, which sued over the project last summer, called the decision a "major victory".
But the opinion will not necessarily stop the pipeline, which is already active.
The two sides are ordered to reappear in court on June 21.
Energy Transfer Partners, one of the companies that owns the pipeline, downplayed the ruling.
"Dakota Access believes the record supports the fact that the Corps properly evaluated both issues, and that the record will enable the Corps to substantiate and reaffirm its prior determinations," the company said in a statement.
The $3.8bn (£3bn) Dakota Access Pipeline consists of almost 1,200 miles of pipeline, designed to speed delivery of crude oil from North Dakota oil fields to Illinois, and on to the Gulf of Mexico.
The project, which required government approval for the parts of the pipeline that cross federal waterways, was put on hold near the end of Barack Obama's presidency after outcry by the Standing Rock Sioux Tribe and others.
But US President Donald Trump ordered an expedited review shortly after taking office, clearing the way for the project to move forward.
Dakota Pipeline: What's behind the controversy?
Dakota Access Pipeline: Construction completion under way
Energy Transfer said in June it was operational.
US District Court Judge James Boasburg in his 14 June opinion said the US Army Corps of Engineers did not adequately consider the environmental justice implications of the project or how a potential oil spill might affect the Standing Rock Sioux Tribe's hunting and fishing.
He said he would consider separately whether the pipeline must cease operations during that review.