Rebound in tech stocks lifts Wall Street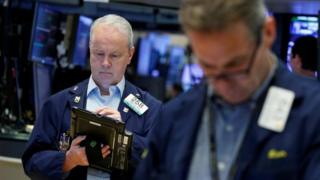 Stocks on Wall Street have closed higher, with tech stocks recovering some of the ground lost in recent days.
Tech stocks had fallen on Friday and Monday, with some analysts saying that share prices in the sector had become overblown.
But after dropping 2.5% on Monday, shares in tech giant Apple were up 1.2% at the close.
Google owner Alphabet was also up 1.1% while shares in social media giant Facebook rose 1.5%.
The tech-focused Nasdaq index rose 44.90 points, or 0.7%, to 6,220.37.
The Dow Jones climbed 93.28 points to 21,328.95, while wider S&P 500 index added 10.96 points to 2,440.35, with both indexes setting fresh record highs.
Traders expect an interest rate increase when the Fed concludes a two-day meeting on Wednesday.