FTSE 100 steady in quiet trade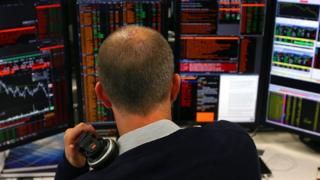 The London market edged lower, with the FTSE 100 index down 28.64 points to 7,449.98 at the close.
There was little corporate news about to excite the market, but in the FTSE 250, shares in laundry services group Berendsen jumped 11% after it looked set to be taken over.
France's Elis said it had reached an agreement in principle with the UK firm on key terms of a £2.2bn offer.
Shares in Flybe rose 1.5% despite the airline reporting a £20m loss.
The regional carrier has suffered after previous expansion plans proved too ambitious, but the company said the current year was going well.
On the currency markets, the pound slipped 0.14% against the dollar to $1.2943, but edged up 0.2% against the euro to 1.1535 euros.