Euro slips after Macron wins French presidency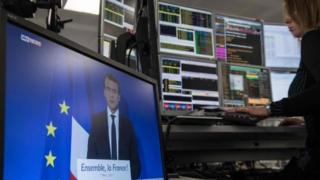 The euro has slipped back against the dollar as markets reacted to Emmanuel Macron's victory in France's presidential election.
In the immediate aftermath of the vote, the euro hit a six-month dollar high of $1.1024, but then fell back to $1.0955.
Investors had widely expected pro-EU centrist Mr Macron to beat far right nationalist Marine Le Pen.
He plans changes to tax and the labour market, but there are concerns about whether he can get these implemented.
As an independent, Mr Macron does not have representatives in parliament.
Peter Hensman, global strategist at Newton Investment Management, said: "The challenge going forward is Macron's lack of significant support in parliament.
"He founded his own party, En Marche!, and hence currently has no elected representatives to push through his plans. This means the parliamentary elections scheduled for 11 and 18 June will have significant implications for his future prospects."
Despite the slight fall in the value of the euro on Monday, the currency is still up by about 2.5% since the first round of voting in the presidential election.
---
Analysis
By Andrew Walker, BBC economics correspondent
He's a Europhile. By that I mean he's enthusiastic about both the EU and the currency.
For the eurozone he's keen on more integration - a finance minister, a budget and government borrowing at the eurozone level. He is also keen on the eurozone's "banking union", a project to integrate the financial system that is underway but is not complete.
The general thrust is very much in line with what many economists think the area needs to reduce its vulnerability to future financial crises. Whatever you might think of the economic case, such a vision faces enormous political obstacles.
The biggest of them is Germany. It is easy to portray integration as putting German taxpayers' money at risk to pay for irresponsible public spending policies in less prudent eurozone countries.
Germany too has an election this year. President-elect Macron will need to take his time if he is going to carry the eurozone in his preferred direction.
---
No hard Brexit
Following his victory, Prime Minister Theresa May called Mr Macron to congratulate him and they briefly discussed Brexit.
Jean Pisani-Ferry, chief economic adviser to Mr Macron, told BBC Radio 4's Today programme that France's new president had no interest in punishing Britain and did not want a hard Brexit, but said he would be "tough" during negotiations.
He said: "There is a mutual interest in keeping prosperity that exists, that has been built over the years from lots of economic and various relationships, also the security and defence relationship is extremely important in the kind of environment we are in and which is a very dangerous environment.
"So we have to keep all that. At the same time we have divergent interests on some aspects of the negotiation, so there will be a tough negotiation and he will be tough."
Mr Macron is a former investment banker and an economic liberal. He was economy minister under Socialist President Francois Hollande, but has tried to define himself as neither left nor right politically.
He has proposed a range of policies combining budget cuts and more labour market flexibility, with public investment and an extension of the welfare state.
"Voters elected for Emmanuel Macron's pro-business policy proposals, which have the potential to unlock long-held-back investment and stimulate French markets," said Stephen Mitchell at London-based fund manager, Jupiter Asset Management.
His opponent in the race for the presidency, Marine Le Pen, is a critic of globalisation and had proposed withdrawing France from the single currency.