Co-op Group makes loss as bank stake written off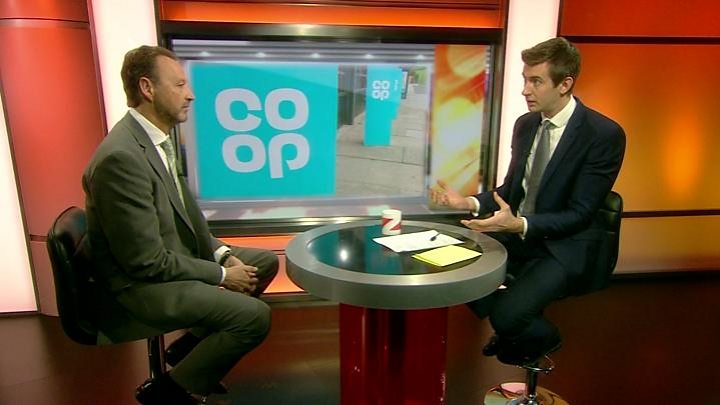 The Co-op Group has reported its first annual loss since 2013 after declaring that its stake in Co-operative Bank is worth nothing.
Co-op Group reported a pre-tax loss of £132m for 2016, a sharp deterioration on the previous year's profit of £23m.
It reduced the value of its 20% stake in Co-operative Bank from £185m to zero, reflecting the bank's continuing problems.
The group also said that its financing costs had risen by £74m in 2016.
The Co-op Bank, which has four million customers, put itself up for sale in February.
It almost collapsed in 2013, but was rescued by a group of US investors. Under that deal, Co-operative Group kept a 20% stake in the bank.
But the new owners have struggled to revive the bank's fortunes. Last year, it lost £477m - the fifth consecutive year of losses.
Co-op Group said it had made a "prudent valuation" of its stake in Co-operative Bank based on the "volatility" caused by the sale of the bank.
New markets
Co-op Group said that operating profits, which exclude the loss related to the bank stake, were up 32% in 2016 at £148m.
Those profits were boosted by the sale of its crematoria and a 3% rise in sales.
"We've made great progress in rebuilding our Co-op, with all our businesses delivering strong performances," said chief executive Steve Murrells.
He said that in 2017, the Co-op Group would look to expand outside of its current markets.
"We are exploring how we can enter markets that are not serving people well and challenging existing providers," he said.
Retail analysts are speculating that could mean an entry into the electricity and gas business.
"Electricity and gas providers are regularly in the press for customer complaints and generally not serving customers well, therefore this looks to be a logical step for the Co-operative given their ambition to enter new markets," said Steve Dresser, director at Grocery Insight.
"It would be a good brand extension, but isn't without risk given the volatile nature of the market," he added.