Children's scooters added to inflation basket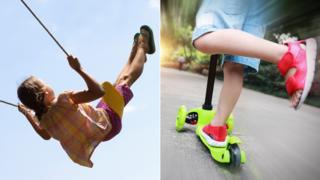 The obsession of many young children to scoot is affecting the way the cost of living is calculated in the UK.
Children's scooters have been added to the basket of goods used to measure the UK's inflation rate.
It has replaced the swing, which was being sold less, particularly during the winter, the Office for National Statistics (ONS) said.
The price movements of 700 goods and services are measured in 20,000 UK outlets to calculate inflation.
Also added to the basket were gin, flavoured ciders, non-dairy milk (such as soya or almond), men's fitness tops, and jigsaw puzzles for adults.
Gin comes back into the mix after a 13-year absence from the basket - the result of new craft distilleries popping up and rising popularity.
Bicycle helmets also return to the inflation basket after a 12-year absence.
Disappearing from the basket are alcopops, old mobile phone handsets, menthol cigarettes, and the fee for stopping cheques.
The return of gin
Gin sales in the UK rose 16% last year, breaking through £1bn for the first time. The Wine and Spirit Trade Association (WSTA), said 40 million bottles were sold - enough to make 1.12bn G&Ts or 28 drinks each for every Briton of drinking age.
Britain exported a record £474m worth of gin in 2016, according to the WSTA.
40 new gin distilleries opened in the UK in 2016, adding to the 56 set up in the previous year.
Sales of gin in the UK are expected to beat blended whisky by 2020, according to research group Euromonitor.
The UK suffered from a gin crisis in the first half of the 18th century. Gin distillation was initially encouraged by the government to support grain prices. But consumption rocketed, leading a magistrates' court to declare that gin was: "The principal cause of all the vice and debauchery committed among the inferior sort of people".
Changing habits
The basket of goods reflects contemporary habits and technology to calculate the changing cost of living, as measured by the inflation rate.
A series of changes have been made, but the replacement of the swing with the scooter is perhaps the clearest signal of how families have changed their habits regarding gifts for children.
Officials at the ONS have decided scooters have moved on from being a fad to become everyday items.
Last year, coffee pods and microwave rice were added to the basket, to reflect a long-term trend towards prepared foods.
Nightclub entry fees and rewriteable DVDs were among the items removed from the calculations.
History of the scooter
Thought to have originated in the late 19th Century. "Most scooters would have been homemade, using wood or whatever people could find. The simplicity of the design encouraged that," says Esther Lutman, assistant curator at London's Museum of Childhood
Surge of interest in the 1930s and, to a lesser extent, in the 1950s and 1980s
Trend for modern scooters dates from 1996, when Wim Ouboter of Micro Mobility Systems in Switzerland produced a foldable aluminium model
---