Budget 2017: What it means for you
By Kevin Peachey
Personal finance reporter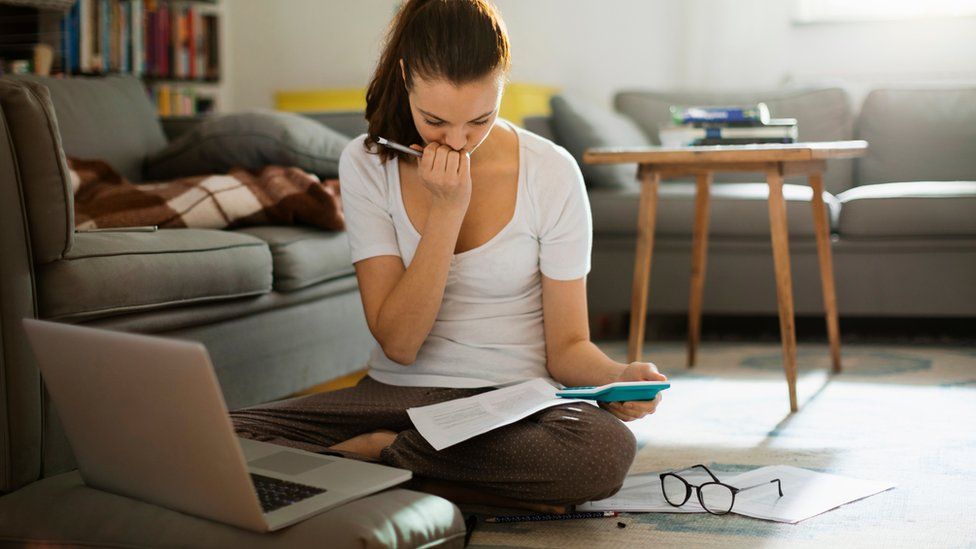 Two Budgets in one year have the potential to make a major impression on your household finances.
In the first of this double-header, Chancellor Philip Hammond said that he was supporting families while not spending recklessly.
Although the Budget was relatively low-key, other changes were already planned. This adds up to a significant financial impact on millions of people - even before the next Budget in November.
So here is how it could affect you.
Tax rise for the self-employed
It will increase from its current level of 9% to 10% in April 2018, and then to 11% in April 2019 for those making a profit of more than £8,060.
The level for employees for these Class 4 contributions is 12%.
The chancellor said that this would raise £145m a year by 2021-22. On its own, the change announced in the Budget will leave 2.84 million people facing an average annual increase of £240.
As previously announced, Class 2 payments - which have a lower threshold of £5,965 or more in profits a year - will be abolished.
Taken together, only the self-employed with profits over £16,250 will have to pay more as a result of these changes - at an average cost of 60p a week to those affected.
The chancellor said this brought more fairness between the self-employed and employees.
But the move was criticised by the body that represents the self-employed.
"The chancellor should not forget that growth in self-employment has driven our labour market in recent years and punitive rises in tax will make many people have second thoughts about striking out on their own," said Chris Bryce, chief executive of IPSE.
Director shareholders will see a tax break reduced on the dividends they receive.
That will affect those who own a small business and pay themselves in dividends alongside a small salary.
It will also hit people with large portfolios of shares.
Experts say that with an Isa allowance of £20,000 available to use from April, many investors will not need to worry.
A new government-backed savings product was promised in November's Autumn Statement - but we did not have date or a rate.
Now the chancellor has said the Investment Guaranteed Growth Bonds will be offered by National Savings and Investments from April, paying interest of 2.2%.
The chancellor described this as a market-leading rate, which it is - but it is only the equal of the best-buy three-year bond on the market now. Critics have already labelled the product as a "sideshow" and "underwhelming".
The bond will be open to those aged 16 and over, subject to a minimum investment limit of £100 and a maximum investment limit of £3,000. Savers must lock in their money for three years.
Official forecasts estimate that the cost of living will rise at 2% or above for the next three years.
There will be no change to previously planned inflation-linked increases in duties on alcohol and tobacco, but a new minimum excise duty is being introduced on the cigarettes targeting the cheapest tobacco.
This, along with the previously announced measures, will mean a packet of 20 cigarettes will cost 35p more from 18:00 GMT on Wednesday. A 30 gramme pack of hand-rolled tobacco will cost 42p more.
Concerns have been raised that many people are falling into a subscription trap, by signing up for a paid-for service without meaning to - for example, when a paid subscription starts automatically after a free trial has ended.
Citizens Advice estimates that two million consumers each year have problems cancelling subscriptions on, for example, TV subscriptions.
Those with mental health problems are often vulnerable to these issues.
The chancellor confirmed that new measures will be considered in a Green Paper in the summer.
A long list of changes, announced in previous Budgets and Autumn Statements will come into force in April or the subsequent months. They include:
The amount you can earn before paying income tax - the personal allowance - is currently at £11,000 and will go up to £11,500. The government has promised this will rise to £12,500 by 2020-21. The threshold for higher rate will go up from £43,000 to £45,000, except in Scotland (owing to devolved powers) where it will be £43,000
Many working-age benefits remaining unchanged for a second year, as part of a four-year freeze. These include Jobseeker's Allowance, Employment and Support Allowance, some types of Housing Benefit, and Child Benefit. However, state pensions, Maternity Pay and some disability benefits are excluded
The launch of a new Lifetime Individual Savings Account (LISA) for those aged between 18 and 40. They can save up to £4,000 a year, and the government will add a 25% bonus if the money is used to buy a home or as a pension from the age of 60
The start of a gradual process allowing people to pass on property to their descendants free from some inheritance tax
Any family which has a third or subsequent child born after April will not qualify for Child Tax Credit, which can be more than £2,000 per child. This will also apply to families claiming Universal Credit for the first time after April
The family element of child tax credits, worth £545 per year, will be abolished. So families in which the eldest child is born on or after 6 April will not receive this payment.
Many buy-to-let landlords will see the amount of tax relief that they can claim on mortgage interest payments cut over the course of four years from April. They will only be able to claim at the lower rate of tax, not the higher
The National Living Wage will rise from £7.20 to £7.50 in April, for those aged 25 and over. Public sector pay has already been set at a 1% annual rise each year until 2019-20
The amount that can be saved in a tax-free Individual Savings Account (Isa) is rising from £15,240 a year to £20,000
Salary sacrifice restricted for items such as computers, gym membership and health screening
Fuel duty will be frozen for a seventh year, but the cost of vehicle insurance may rise owing to an increase in the Insurance Premium Tax from 10% to 12% in June
New Vehicle Excise Duty (VED) bands are to be introduced for cars registered from April - zero, standard and premium
In May, probate fees will change, costing significantly more for large estates
Inflation-linked rises that mean a pint of beer will cost 2p more from Monday, wine will rise by 10p a bottle and a bottle of whisky will go up by 36p
Related Internet Links
The BBC is not responsible for the content of external sites.