House price growth slowest since 2013, says Halifax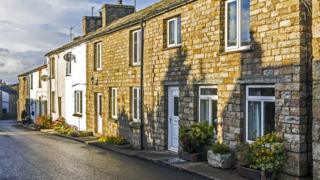 The annual rate of growth in UK house prices has slowed to its lowest pace in three and a half years, according to the Halifax.
The UK's largest mortgage lender said prices increased by 5.1% in the year to February, the lowest since July 2013.
It means the rate of house price inflation has halved in just 11 months.
In March last year, house prices were increasing by 10% a year, according to the Halifax measure. The average price is now £219,949.
The lender said the reason for the slowdown was affordability.
"A sustained period of house price growth in excess of pay rises has made it increasingly difficult for many to purchase a home," said Martin Ellis, Halifax's housing economist.
"This development, together with signs of reduced momentum in the jobs market and squeezed consumer spending power, is expected to curb house price growth during 2017."
However, low mortgage rates have meant that the proportion of people's earnings being spent on repayments is still relatively modest.
In the last three months of 2016, those with mortgages spent 30% of their income servicing their loans, compared to the peak of 48% in 2007, the Halifax said.
---