UK should produce more of its own food to protect prices, report says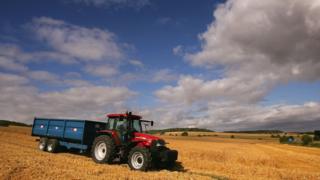 If the UK produced more of its own food, it could protect consumers and producers from sharp rises and declines in global food prices, a report says.
Only 52% of food eaten in the UK comes from British farmers, according to a report published by Morrisons.
Making the UK self-sufficient in food is probably impossible, it says.
But making it less reliant on global food markets is possible, and may help protect consumers from international price rises, it adds.
Climate change and potential trade wars are among the biggest risks to farmers and shoppers.
"A globalised food system drives efficiency, scale and specialisation and, in turn, drives diets towards the commodity crops - calorie-rich but nutrient-poor - with its implications for health," says the research, led by Prof Tim Benton of the University of Leeds.
And some of the efficiencies come in the form of exporting problems to other nations, such as pollution from intensive farming in countries with fewer regulations than the UK.
'More food, diverse food'
As the UK leaves the EU, it may leave behind some of the subsidies available to farmers, said Prof Benton, reducing the "safety net" for farmers and potentially driving out smaller producers, so only the largest farms survive.
This could be similar to the experience of New Zealand when subsidies and protections were removed from farmers in the 1980s.
The risk is that only the most commercially successful produce will survive, increasing imports of some types of food and making farms reliant on international prices for the crops and meat that they do produce.
"It makes sense to hedge our bets and build a more resilient system" which can then "provide more food, and more diverse food, to the nation", said the report.
The downside is that food might be more expensive in general, but more secure and diverse, said Prof Benton.
The difference in price should then go to farmers to improve their produce and sustainability, he said. Other benefits include countryside that avoids the scars of intensive farming, he added.
In 2015 Dairy farmers said they faced a crisis because of the continuing fall in the price of milk.
Farm gate prices fell 25% in a year to the lowest in five years, making the cost of production more expensive than the milk itself. A dip in global demand was blamed.
Earlier this month, bad weather in southern Europe cut the harvest of courgettes, aubergines, broccoli and iceberg lettuce, leaving UK supermarket shelves empty and pushing up wholesale prices. One trader told the BBC courgettes went from up to £7 per crate to as much as £22.
A FTSE 100 company publishing a report which tempers the benefits of globalisation will surprise some, although increasingly business leaders are conceding that global markets have left some people behind, both financially and socially.
The UK's decision to leave the EU and the US's election of Donald Trump are seen as a rebellion by voters against globalism.
Facebook founder Mark Zuckerberg told the BBC that people had been left behind by global growth, sparking demands to "withdraw" from the "connected world".
The report was published by Morrisons, but researched independently by academics at the Universities of Leeds, York, Oxford, Aberdeen, Reading, City University and Rothamstead.
The supermarket said it was looking to recruit more than 200 new suppliers in the UK in the next year.