FTSE 100 rises as bank shares ahead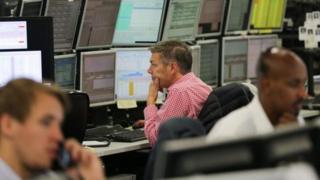 Banking shares were among the biggest gainers on the benchmark FTSE 100 in Wednesday trading, helping the index to notch up modest gains.
RBS, Barclays and Lloyds were all ahead after US Fed chair Janet Yellen signalled that the central bank could raise interest rates soon.
Overall, the 100-share index was up 33.85 points or 0.47% at 7,302.41.
Travel firm Tui fared worst, down 7%. On Tuesday, it rose 5.3% after saying first-quarter losses had narrowed.
On the currency markets, the pound was unchanged against the dollar at $1.2465 and 0.16% lower against the euro at 1.1768 euros.