Banks lead Wall Street to fresh record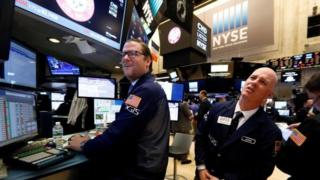 Wall Street notched up another record day, with bank shares jumping in expectation that US interest rates could rise soon.
The three main indexes drifted lower early in the day, but reversed course after Federal Reserve chairwoman Janet Yellen hinted that rates could rise as early as next month.
The S&P 500 rose 0.4% to 2,337.5 for its sixth straight day of gains.
The Dow Jones rose 0.5% to 20,504.4, while the Nasdaq rose 0.3%, to 5,782.5.
Banks, expected to gain from higher interest rates, were among the main gainers. Goldman Sachs rose 1.29% and Bank of America added 2.82%.
General Motors jumped 4.8% for one of the biggest gains in the S&P 500 following news that France's PSA Group, maker of Peugeot and Citroen cars, is exploring a deal to buy Opel, GM's money-losing European business.
Eight of the 11 major S&P sectors rose, with the healthcare segment adding 0.73%.
Apple rose as high as $135.09, an intraday record, before ending with a gain of 1.30% at $135.02, its highest-ever closing price.