US stocks drift ahead of jobs data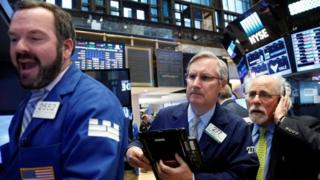 Wall Street finished little changed as investors looked ahead to key US jobs data on Friday.
US stock indexes pared slight losses at the opening bell to finish largely flat in cautious trading.
The Dow Jones dropped 6 points at 19,884. the Nasdaq also lost 6 points at 5,636, while the S&P 500 rose 1 point to to 2,280.
Non-farm payroll data is expected to show that US employers added 170,000 jobs in January.
The unemployment rate is forecast to remain at 4.7%.
Among individual stocks, Facebook fell 1.8% with profit figures overshadowed by a court ruling against its Oculus division.
Among other large companies reporting earnings, shares in US oil producer ConocoPhillips finished slightly higher after it reported a smaller-than-expected quarterly loss.
Ralph Lauren dropped 12.3% after the company said chief executive Stefan Larson would leave following differences with the company's founder and chairman.
And digital imaging company Shutterfly fell 15.6% after reporting a 30.6% tumble in quarterly profits.