Dow Jones share index edges to another record high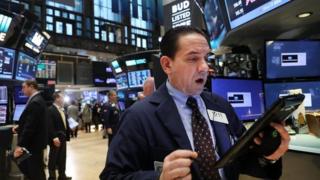 The Dow Jones eased higher, a day after climbing above the 20,000 milestone for the first time.
The Dow ended up 0.2% at 20,100.9 points, while the wider S&P 500 slipped 0.1% to 2,296.68. The Nasdaq was virtually unchanged at 5,655.18.
"The market is probably taking a breather after yesterday," said Bill Lynch, director of investment at Hinsdale Associates.
Ford fell 3.3% and eBay rose 5% after both posted latest revenue figures.
Toy firm Mattel plunged 17.7% after reporting fourth-quarter earnings and sales well below analyst expectations. Chief executive Christopher Sinclair pointed to a "significant toy category slowdown in the holiday period".