Sage and Unilever lead FTSE 100 lower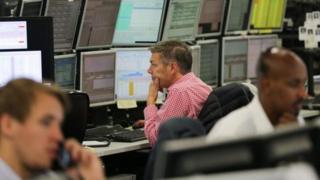 The FTSE 100 ended down on Thursday following sharp falls by Sage Group and Unilever.
The blue chip share index dipped 2.94 points to 7,161.49.
Shares in accountancy software specialist Sage tumbled 5.4% to 599p following poor sales in its US payments business which it may now sell.
Consumer goods giant Unilever's stock plunged 4.7% to £31.91 on currency headwinds.
Drinks-maker Diageo was the day's top riser, up 3.6% to £22.18, after the world fell back in love with Scotch.
Royal Bank of Scotland retained its place as one of the best performers on Thursday when its shares rose 2.3% to 232.9p.
The bank, which is 72% owned by the taxpayer, has set aside an extra $3.8bn to settle fines related to the sale of financial products linked sub-prime mortgages in the US.