Tech companies lead Wall Street down at the close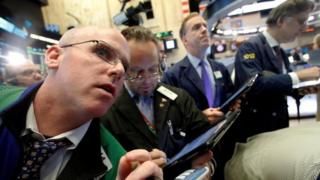 US stocks ended down on the last day of trading for 2016.
The Dow Jones industrial average was down 57.18 points at 19,762.60; the S&P 500 lost 10.43 points to close at 2,238.83 and the tech-rich Nasdaq Composite Index was down 48.97 points at 5,383.12.
Microsoft was the worst faller on the Dow, losing 1.17%.
Apple shares fell 0.8% on a report that the company will cut iPhone production.
The Dow posted its first weekly decline since the US election, but overall in the year the benchmark index has gained 13.4%, while the S&P 500 has made an annual gain of 9.5%