Wall Street gives up early gains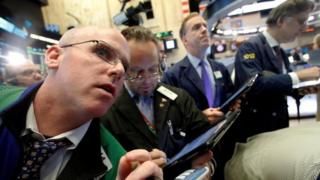 Wall Street closed sharply lower on Wednesday after stocks tumbled across a range of sectors.
The Dow Jones industrial average ended the day 111.36 points down at 19,833.68, led by construction group Caterpillar, chipmaker Intel and healthcare specialist Merck.
New data revealed that upcoming US home sales fell by 2.5% between October and November, compared to economists' expectations of a 0.5% rise, amid suggestions that rising interest rates were already beginning to weigh on the housing market.
However, some experts said the fall on the Dow was likely to be profit-taking as the index skirted around the record 20,000 mark.
Bill Lynch, director of investment at Hinsdale Associates, said: "I think when you get to the point where you've got a hurdle like Dow 20,000 it seems to take some time. There is a fair amount of profit taking when the stocks get closer to that milestone."
The technology-focused Nasdaq ended 48.89 points down at 5,438.56 while the S&P 500 also fell, losing 18.96 points to 2,249.92.