FTSE 100 edges higher ahead of Christmas break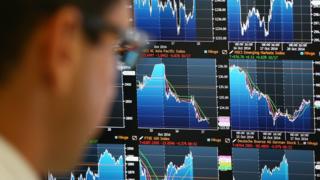 UK shares edged higher in the final trading session before Christmas, with the FTSE 100 ending a shortened session up 4.49 points at 7,068.17.
Shares in Barclays fell 0.9% after the US Department of Justice sued the bank for alleged mortgage securities fraud.
It says Barclays misled investors about the quality of loans backing securities in the run-up to the financial crisis. Barclays has rejected the claims
Data showed the UK economy grew faster than estimated in the third quarter.
The Office for National Statistics (ONS) said the economy grew by 0.6% in the July-to-September quarter, compared with the previous estimate of 0.5%.
However, the ONS also trimmed its growth estimates for the first and second quarters of the year.
On the currency markets, the pound fell 0.2% against the dollar to $1.2258, and slid 0.4% against the euro to €1.1725.