Dow Jones edges back from record close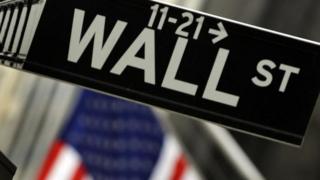 The Dow Jones inched lower at the close after hitting a record on Tuesday.
The Dow was 33 points lower at 19,942. The broader S&P 500 index was 6 points lower at 2,265, while the Nasdaq index was down 13 points at 5,471.
The Dow has risen almost 1,000 points in less than a month as investors bet on Donald Trump's policies boosting the US economy.
Shares in Nike were among the winners, up 1% after it reported better than expected sales and profits on Tuesday.
"We're looking at a relatively quiet morning as investors wind down ahead of the holiday weekend," said Andre Bakhos, managing director at Janlyn Capital.
"The market has been rallying since the election and these minor pauses are welcome and necessary as traders take some profit."