Singapore convicts banker in 1MDB case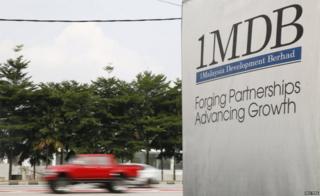 A Singapore banker has been convicted for his role in moving money that had originated from Malaysian state investment fund 1MDB.
Yeo Jiawei was working for Swiss bank BSI at the time of the offences. The bank has since had its operations in Singapore closed down.
He will be sentenced on Thursday.
Observers will be watching to see whether the Singapore legal system wants to crack down harder on financial crime.
Mr Yeo was found guilty of four counts of obstructing the course of justice.
The charges relate to pressurising colleagues not to disclose that Malaysian client Low Taek Jho was moving hundreds of millions of dollars that originated from 1MDB.
Two other BSI staff had earlier admitted failing to disclose suspicious transactions made by Mr Low.
Next year Mr Yeo faces a fresh trial with a further seven charges including money laundering and forgery.
What was 1MDB?
1MDB was a fund set up by Malaysian Prime Minister Najib Razak in 2009.
It aimed to boost the Malaysian economy through investments and infrastructure deals with foreign entities including Saudi Arabia.
It also borrowed heavily and by 2014 had debts of $11bn and missed repayments.
What happened?
The US department of justice alleges that $3.5bn of 1MDB money was misappropriated and laundered through accounts in Singapore, Switzerland and the US.
It said that that the money financed lavish lifestyles for "multiple individuals including public officials" including someone referred to as 'Malaysian Official 1'
US papers do not name Mr Najib, but he is identifiable as "Malaysian Official 1" whose account allegedly received $731m of the misappropriated funds, though later returned $620m.
Others named include Mr Najib's stepson, Riza Aziz, Malaysian financier Low Taek Jho, Malaysian Eric Tan, a United Arab Emirates official and a US citizen.
The US alleges money was used to buy hotels and luxury properties, a private jet, yacht trips, fine art and gambling trips, including one with actor Leonardo DiCaprio. Funds were also allegedly used to help finance Hollywood film The Wolf of Wall Street.
What does Najib Razak say?
Mr Najib and 1MDB have consistently denied any wrongdoing.
Mr Najib was officially cleared of criminality by the Malaysian attorney general earlier this year. He had dismissed the previous attorney general after he repeatedly criticised the prime minister's handling of the case.
The Prime Minister has previously stressed the US case was a civil, not a criminal, procedure, and has insisted he would fully co-operate" with the investigation.
What is Singapore's involvement?
Singapore was one of several global authorities investigating alleged fraud at the fund.
In July Singapore fraud investigators said they had seized more than $175m in assets connected to 1MDB and found several major banks had showed "weaknesses in the processes for accepting clients and monitoring transactions".
Shutting down BSI's Singapore operations, regulators said the bank had shown "the worst case of control lapses and gross misconduct that we have seen in the Singapore financial sector".
The local units of Standard Chartered and UBS, Southeast Asia's biggest lender DBS and Falcon Bank were all found to have "lapses and weaknesses in anti-money laundering controls".