Dow Jones closes shy of 20,000 mark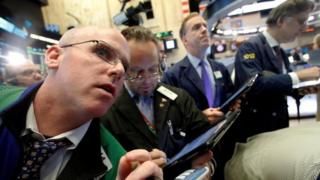 America's leading share index failed to hit a new record high on Friday, despite earlier threatening to break through the 20,000 mark for the first time.
The Dow Jones Industrial average fell 8.83 points, or 0.04% to close at 19,843.41.
The technology-heavy Nasdaq was down by 19.69 points or 0.36%, finishing at 5,437.16.
The S&P 500 also ended the day 3.96 points or 0.18% lower at 2,258.07.
Banking stocks, which have benefited from President-elect Donald Trump's surprise election victory last month, saw that upward trend reverse.
Bank of America fell by 2.16% and Goldman Sachs was 1.74% lower.
Oil company Chevron ended the day up by 0.88%, having been given a boost by a rise in oil prices.
Brent crude was up 2.4% at $55.33 a barrel, while US West Texas Intermediate crude was 2.1% ahead at $51.99.