Banking shares lead Wall Street higher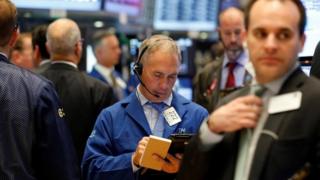 Wall Street resumed its upward path, with bank shares rising after the Federal Reserve hiked interest rates.
JPMorgan Chase advanced 1.7%, Bank of America added 2.3%, and Citigroup rose 1.4%. Bank revenues tend benefit from a higher interest rate environment.
The Dow Jones closed up 0.3% to 19,852. The S&P 500 gained 0.39% to 2,262.03, and the Nasdaq added 0.37% to 5,456.8.
Yahoo fell 6.1% on worries its latest hack attack may derail its $4.8bn sale to Verizon, whose share rose 0.4%.
Facebook gained 0.3% after unveiling a tool to root out fake news on its site, which some people claim influenced last month's US election. Facebook said it would begin testing a system enabling users to click on news items if they suspect they are fabricated.
Rupert Murdoch's 21st Century Fox dipped 0.7% after reaching a deal to take control of TV giant Sky for $14.8bn cash.
Food group Mondelez International jumped 4.4% following a report it could be acquired by Kraft Heinz. A note from Morgan Stanley said such a transaction was "logical." Kraft Heinz shares added 1.2%.