Rate rise blunts Wall Street's record run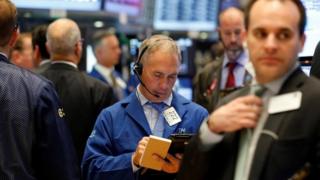 (Close) Wall Street stocks fell and the US dollar rallied after the Federal Reserve raised interest rates for only the second time in a decade.
The move was expected but was coupled with a projection that central bankers now expect three rate rises in 2017 instead of the previously forecast two.
That put the brakes on the recent string of record Wall Street gains.
The Dow Jones fell 0.6% to 19,792.5, and the S&P 500 lost 0.81% to 2,253.2. The Nasdaq fell 0.5% to 5,436.6.
Technology shares were mixed as Donald Trump met with a group of industry leaders for the first time since the election.
Amazon lost 0.7%, while Tesla Motors added 0.3%. Google parent Alphabet, Apple and Facebook were little changed.
General Motors dropped 3.8% on reports that its China joint venture with SAIC Motor Corp is being investigated for possible antitrust violations.
A Bloomberg article citing unnamed people familiar with the matter said some dealerships were being probed over retail pricing practices.