Wall Street indexes hit fresh highs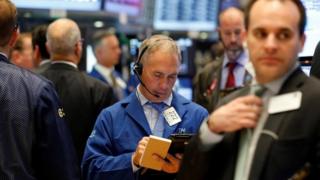 The post-election rally in US shares showed no sign of slowing as all three of the major US indexes hit fresh record highs.
The Dow closed up 0.6% at 19,911.21, just shy of the 20,000 level seen as a marker of positive investor sentiment.
Tech firms drove the rise with computer chip maker Intel jumping 2.3% and IBM by 1.7%.
The broader S&P 500 index rose 0.7% to 2,271.72, while the tech-focused Nasdaq Composite climbed 1% to 5,463.83.
Stocks have performed well since Donald Trump's victory, with the president-elect's economic policies and plans to cut corporate tax deemed beneficial for firms.
"Investors are encouraged by expectations that Trump and a GOP-controlled Congress will enact pro-growth policies and we're seeing modest inflation creep in, while housing remains stable and wages continue to firm," says said Terry Sandven, chief equity strategist at US Bank Wealth Management.
Investors will be keeping a close eye on the Federal Reserve's latest two-day meeting, which begins on Tuesday.
Markets are pricing in a 0.25% increase to its current 0.25% to 0.5% range, taking it to a range of 0.5% to 0.75%.
The slight increase, assuming it happens, will mark just the second jump in interest rates in a decade.
But the real interest will be in Fed chair Janet Yellen's comments about the US economy and the central bank's expectations for future hikes.