Wall Street flat but Lockheed shares hit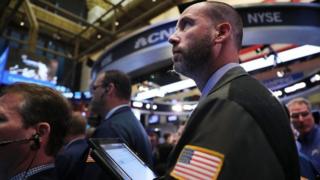 US markets opened higher but shares in Lockheed Martin were hit by comments from President-elect Donald Trump.
Lockheed Martin fell 2.5% after Mr Trump said he would cut the cost of its F-35 fighter after taking office.
He tweeted: "F-35 program and cost is out of control. Billions of dollars can and will be saved on military (and other) purchases after January 20."
The Dow Jones and the S&P 500 continued to hit new records after closing at all-time highs on Friday.
The Dow closed up 0.2% at 19,796.43, while the broader S&P slipped 0.1% to close at 2,256.96. However, the technology-focused Nasdaq Composite shed 0.6% to 5412.54.
Petroleum-linked firms rose as oil prices headed higher, with ExxonMobil and Chevron both adding over 1% to be the top risers on the Dow.
On the Nasdaq, Alexion Pharmaceuticals tumbled 13% after both its chief executive and chief financial officer resigned.
They departed a month after the drugmaker said it was examining allegations of sales malpractices involving its billion-dollar blood disorder drug, Soliris.