FTSE 100 rises but spread betting firms dive on FCA plans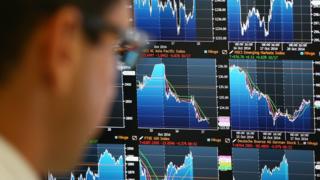 Shares in financial spread betting firms have plunged by a third after the Financial Conduct Authority (FCA) proposed stricter rules for the sector.
The FCA said it was concerned that many retail investors buying "contract for difference" products did not understand them adequately.
It also noted that 82% of clients lost money on the products.
In the FTSE 250, shares in both CMC Markets fell 33% and IG Group shed 38%.
Meanwhile Israel-based Plus 500 fell 28% after it said the FCA proposals would "have a material operational and financial impact" on its UK regulated subsidiary, which accounts for about a fifth of revenues.
The benchmark FTSE 100 index was up 33 points at 6,779.8 points.
Banking shares helped to lift the index, with shares in HSBC climbing 4.3% after Morgan Stanley upgraded its rating on the company to "equal-weight" from "underweight".
RBS topped the leader board with a 5.7% rise, followed by Barclays, which closed up 4.6%.
Shares in Drax Group ended 8.1% higher after the power producer said it planned to buy energy supplier Opus Energy for £340m. Drax also announced it would buy four gas turbine projects.
On the currency markets, the pound fell 0.15% against the dollar to $1.2714, and rose 0.25% against the euro to €1.1854.