FTSE 100 higher as markets stabilise after Italy vote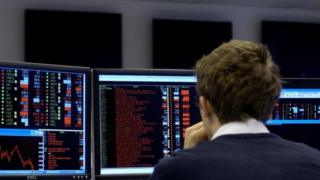 UK shares rose as European markets shrugged off the result from Italy's referendum.
Italian Prime Minister Matteo Renzi resigned after suffering defeat in a referendum over constitutional reforms.
Despite falling in the first few minutes of trade, the benchmark FTSE 100 index recovered to close up 16 points, or 0.2%, higher at 6,746.83.
Other European stock markets were also higher, although Italy's fell 0.3%.
Shares in Royal Bank of Scotland were up 2.2% after the bank announced it had reached a settlement with three of the five shareholder groups who claim they were misled over RBS's £12bn rights issue in 2008.
Topps Tiles fell 2.8% after the retailer said it had made an "error in the calculation" in its sales figures.
It had originally said that like-for-like sales in the first eight weeks of its new financial year rose 0.8%, but this has now been revised to a fall of 0.3%.
On the currency markets, the pound slipped 0.2% against the dollar to $1.2703. After rising sharply against the euro in the immediate aftermath of the referendum result, it then lost ground and was 0.7% lower at €1.1843.
The euro had hit a 20-month low against the US dollar of $1.0505 at one point, but it then recovered to stand 0.5% higher at $1.0722.