Dow Jones closes at fresh record high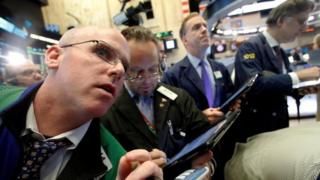 The Dow Jones has closed at a fresh record high, boosted by a rally in energy stocks as the price of crude oil continued to rise.
The Dow Jones rose 68.49 points to 19,192.07, while the broader S&P 500 lost 7.72 points to end at 2,191.09.
The tech-heavy Nasdaq also dropped, closing down by 72.57 points at 5,251.11.
Among the energy firms to gain were Chevron, which closed 1.9% higher, while Southwestern Energy climbed 7%.
Oil prices continued to rise on Thursday in the wake of oil producers' group Opec's move to cut oil output.
On Wednesday, Opec said it had agreed to reduce production by 1.2 million barrels a day from January, its first cut for eight years.
As a result, oil prices jumped about 10% on Wednesday, and they continued to rise on Thursday, with Brent crude up 3.5% at $53.62 a barrel.