Dow Jones closes flat as energy stocks rise on Wall Street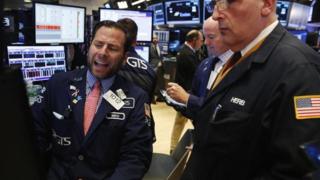 The Dow Jones industrial average closed flat on Wednesday, after earlier having reached a record high.
Energy shares gained after the oil cartel Opec agreed to cut production for the first time eight years in order to try and boost prices.
Shares in the oil firm Chevron rose 2% while rival Exxon Mobil gained 1.6% as oil prices soared.
Brent crude rose 8% to $51.50 per barrel, while US crude was up 8.5% to $49.05 per barrel.
The Dow Jones closed up just two points at 19,123.58 while the broader S&P 500 index dipped five points to 2,204.66.
However, the tech-focused Nasdaq index lost 1% to end at 5,323.68.
Bank shares also rose as members of President-elect Donald Trump's economic team discussed ways to make it easier for US banks to lend more money, which could lead to larger profits for financial institutions.