US markets dip from record highs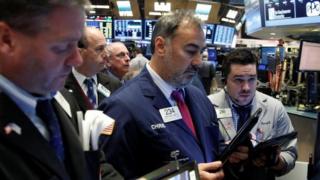 After finishing at record highs on Friday, the three major US markets fell on Monday, recording their worst performance for almost a month.
The Dow Jones Industrial Average fell 54.24 points, or 0.3%, to 19,097.90.
The broader S&P 500 index dipped 11.63 points to 2201.72, while the tech-heavy Nasdaq index fell 30.11 points to 5,368.81.
Shares in Time Inc jumped almost 16% after the New York Post reported it had rejected a takeover bid.
The newspaper said billionaire investor Edgar Bronfman Jr. had offered $18 a share for the publisher, valuing it at about $1.8bn.
Energy stocks gained as the oil price rose in volatile trade. Southwestern Energy shares rose 1.5%.