New hydro power plant opens on Isle of Arran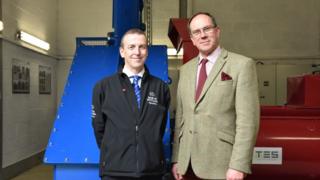 A new hydro power plant has opened its doors on the Isle of Arran.
Glenkiln Hydro power plant resulted from a collaboration between a local farming business and a renewable energy developer.
The scheme will power 400 local homes and will supply 15% of the island's domestic electricity.
The multimillion-pound facility, which is over 4.2km long, was built over a two-year period.
'Sustainable energy'
Seven primary schools on the island will have the opportunity to embark on guided tours of the plant - to help pupils learn about hydro-electricity and renewable energy.
Glenkiln Hydro was developed by Lamlash farming business J K & C Bone and renewable energy developer, MEG Renewables.
The 500kW scheme received a six-figure funding package from Bank of Scotland.
Kenneth Bone, owner of Glenkiln Hydro, said: "It's been a long journey but we are immensely proud of what we have achieved with this project.
"We wanted to diversify our business further and after many successful years running our farms, we saw a great opportunity in providing sustainable energy.
Steven McGrath, relationship manager at Bank of Scotland, added: "Sustainable energy is one of the most important sectors for the economy and we remain highly active in the encouragement of projects such as Glenkiln Hydro that are helping the local community and making the area self-sufficient."