FTSE 100 closes down on mining groups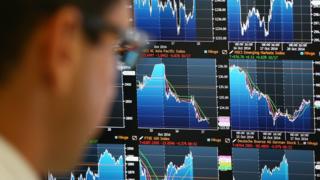 Shares in gold mining companies led the London market to close down as the rising value of the dollar hit the gold price.
Metals miner Fresnillo fell 6.3% and Randgold Resources dropped 4.8% as the gold price fell to $1,206.5 an ounce.
Commodities are generally priced in dollars, so a rise in the dollar's value makes them more expensive for holders of other currencies.
The dollar has risen on expectations that US rates will rise next month.
On Thursday, the chair of the Federal Reserve, Janet Yellen, indicated that the US central bank could raise interest rates "relatively soon".
The benchmark FTSE 100 share index closed down 10.34 points, or 0.15%, at 6,784.37.
On the FTSE 250, shares in Electrocomponents surged 22.1% after the electronic component distributor reported a 76% jump in half-year profits to £55.1m, and raised its target for cost savings.
On the bond markets, yields on UK 10-year gilts hit a six-month high of 1.498% at one point before falling back.
Global bond yields - which move inversely to bond prices - have surged since Donald Trump's US election victory, as markets expect his policies to lead to a pick-up in inflation.
On the currency markets, the pound was little changed against the dollar at $1.2330, and also flat against the euro at €1.1640.