US stocks higher as Yellen hints on rate rise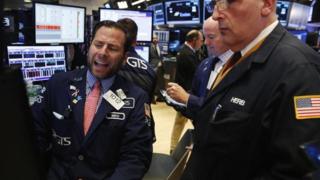 (Close): US stocks edged higher as Federal Reserve chair Janet Yellen kept hopes of a rate rise next month on track.
Ms Yellen indicated in testimony to Congress that the Fed could raise interest rates "relatively soon".
She said the job market had made further improvement this year and that inflation, while still below the Fed's 2% target, had started to pick up.
The Dow rose 0.2% to 18,903 to resume its post-election winning streak.
The wider S&P 500 index gained 0.5% to 2,187 - within touching distance of a record high - while the Nasdaq index rose 0.7% to 5,333.
Bank stocks, which benefit from higher interest rates, were among the winners.
"Yellen gave a path that would confirm a rate increase and that certainly helps the banks, but also more importantly for the market as a whole, the Fed is still steady-as-she-goes and data dependent," said said Bucky Hellwig, senior vice president at BB&T Wealth Management .
Neil Wilson, markets analyst at ETX Capital, said: "It now looks almost impossible for the Fed not to raise rates next month - it's painted itself in a corner and has to respond with a hike or all hell will break loose in the markets."
Among individual shares, oil companies Exxon and Chevron fell back after rising 1% in early trading as crude prices gave up early gains.
WalMart shares fell 3.1% after underlying sales at the world's largest retailer grew slightly slower than expected.
On the currency markets, the dollar remained at levels last seen in 2003 against a basket of major currencies.