Wall Street slips as Dow Jones ends winning streak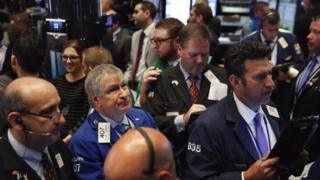 (Close): The Dow Jones ended a seven day winning streak as US share markets paused for breath.
The Dow fell 0.3% to 18,868 after finishing the previous session at another record high on hopes of an economic boost from Donald Trump.
The S&P 500 was down 0.2% at 2,177, while the Nasdaq rose 0.4% to 5,294 as tech stocks bucked the trend.
Bank shares were the heaviest fallers after rising sharply last week on hopes Mr Trump would relax regulations.
"People with money on the sidelines are looking for a place to put it. They're looking for names that haven't rallied as much and ones that have rallied are taking a bit of a breather," said Paul Hickey, co-founder at research firm Bespoke Investment Group.
Energy firms were among the other main losers amid a choppy day for oil prices, as Brent crude fell 1.1% to $46.45 a barrel.
On the currency markets, the dollar continued to strengthen - hitting a near-14-year high against a basket of other currencies on expectations of higher inflation under Mr Trump.
Meanwhile, retailers were also in focus ahead of the approaching holiday shopping season.
Hardware and home improvement retailer Lowe's saw its share price sink 2.9% after its third quarter earnings underwhelmed investors.
But department store chain and e-retailer Target saw its share price jump 6.4% after boosting its outlook for sales over the holiday period and reporting better-than-expected quarterly results.
Retail giant Wal-Mart is due to report quarterly results Thursday.
Meanwhile, the dollar continued to strengthen, hitting an eight-year high against the Chinese yuan.