Prizes foster female entrepreneurship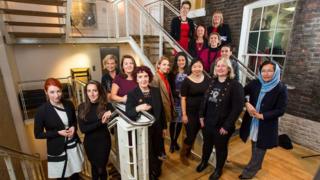 Fifteen women have each collected a £50,000 prize after winning the first Women in Innovation competition.
The project, run by UK agency Innovate UK, was launched to address the fact that only one in seven business funding bids it received were from women.
As well as the money, each of the winners, chosen from 34 finalists, will receive tailored business support and be paired with a business mentor.
The number of UK women entrepreneurs is about half the level of men.
The winning ideas included a plan to improve the cancer survival rate by using strings of beads to measure the dose and spread of radiation; solving a large volume waste problem by converting chicken feathers into an insulation product; a scheme for trailers to replace trucks to potentially save 10,000 UK truck journeys per day; and a new technique to improve chocolate manufacturing.
---
Read more on women in business:
The model who set up a luxury travel firm after a dare
The women in El Salvador starting businesses to escape domestic abuse
The rise of the Muslim female entrepreneur
Viewpoint - Working women: Vertical ambition or glass cliff?
More help urged for women in business by FSB
---
Recent research showed that only about 8% of engineers in the UK and 14% of people working in all science, technology and engineering industries (Stem) were women.
The proportion of working-age women involved in early-stage entrepreneur projects is 50% less than their male counterparts.
One reason for this is thought to be the lack of relevant female role models and that is one of the issues this competition has been trying to address.
'Dream big'
Dr Ruth McKernan, chief executive of Innovate UK, said: "It is very clear that harnessing the talent of women entrepreneurs could significantly enhance UK economic growth.
"I am delighted that we are taking action, supporting and funding female entrepreneurs to help them succeed and inspire other women to come forward, apply for funding and turn their ideas into successful businesses.
"The calibre of winners is an eye-opening view into the talent and vision of the UK's female entrepreneurs."
---
The winners and their ideas:
Natwilai Utoomprurkporn (fully autonomous drone system for tall building inspection)
Rebecca Sage (digital education portal for the molecular world)
Siobhan Gardiner (automated robotic servicing platform for drone users)
Anne Roques (video analysis, kinematic assessment method for hip replacement)
Shakardokht Jafari (solution to improve cancer survival rate)
Emma L Sceats (non-animal alternatives in drug discovery and research)
Lorin Gresser (digital clinical support tool for healthcare professionals)
Christine Boyle (polymer-based thermal solar panel)
Rachel Gawley (crowdsourcing medical trials of mobile apps)
Anna Hill (emergency relief flood mitigation hybrid system)
Kym Jarvis (handheld tool for nuclear and homeland security environments)
Elena Dieckmann (innovative materials from poultry feather waste)
Pauline Dawes (trailers replace truck journeys)
Carmen Hijosa (natural and sustainable alternative to leather)
Fanzi Down (new technique to create a step change in chocolate manufacturing)
---
Winner Natwilai Utoomprukporn said: "My advice to any women with an idea is to dream big.
"You have the opportunity to turn this innovation into a business, you just need the support, but without actually starting you don't know what your full potential is."