Dow Jones ends day on record high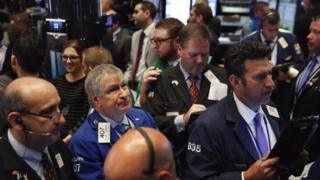 (Close) The Dow Jones has ended the day at a record high as Donald Trump's election victory has continued to drive markets higher.
The Dow Jones rose 1.17% to 18,807.88, with banks among the biggest risers.
The S&P 500, edged up by 0.2% to 2,167.48, but the Nasdaq closed down 0.81% at 5,208.80.
Wall Street has recovered from falls in the immediate aftermath of the election result, buoyed by hopes of tax cuts and increased infrastructure spending.
"Financial markets have swiftly reassessed Trump's win, embracing it with bullish gusto," said Mike van Dulken, head of research at Accendo Markets.
Bank shares, buoyed by hopes that Mr Trump will relax financial regulation, were among the biggest Wall Street gainers.
But on the Nasdaq index, which has a large number of technology stocks, Apple, Amazon, Google and Facebook shares all took a hit.
Analysts said tech companies would be hurt by any trade barriers brought in by Mr Trump, and would not benefit as much from his plans for lower taxes and higher infrastructure spending.
Retailer Macy's ended up 5.6% after the department store operator raised its full-year sales forecast.