FTSE 100 falls back as rally eases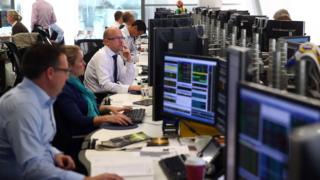 (Close): The FTSE 100 has finished lower after a rally which took it near the 7,000 level ran out of steam.
The FTSE 100 index finished 1.2% lower at 6,827.98 points after having surged on Wednesday and at the start of trading on Thursday.
Analysts said markets were still digesting Donald Trump's victory.
"It's so volatile. Trump is such an unknown there's a lot of movement going on," said Mark Dampier, an analyst at Hargreaves Lansdown.
He added that some investors were taking their profits after the previous session's gains.
Analysts said the strengthening pound also weighed on the index. Sterling rose 0.8% against the dollar at $1.2514 and also jumped 1.2% higher against the euro at €1.1511.
The FTSE 100 often moves in the opposite direction to the pound because many of its firms make most of their profits abroad.
Gold miners were also some of the biggest losers, as the price of gold fell 1% to $1,264.86 per ounce.
Meanwhile, the prospect of more US infrastructure spending under Donald Trump lifted commodity prices.
The price of copper hit a one-year high, and shares in copper miner Antofagasta surged 11%.
In the FTSE 250, shares in Superdry owner Supergroup jumped 9% after it reported a big rise in sales.
In the half-year to 29 October, like-for-like sales jumped 12.8%, which was well ahead of expectations.