Wall Street surges after Trump victory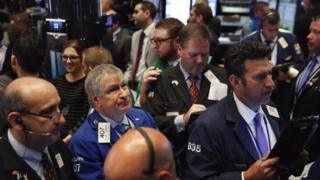 (Close) US markets staged a strong rally on Wednesday, shrugging off expectations that they would be sent tumbling following Donald Trump's win in the US presidential election.
Shares climbed on hopes he would introduce a pro-business agenda.
The Dow Jones ended the day up 1.4% at 18,589.69, the S&P 500 gained 1.11% to 2,163.26 and the tech-rich Nasdaq also rose by 1.11% to 5,251.07.
But analysts also said the election result opens a period of uncertainty.
There are hopes that Mr Trump will introduce lower taxes and raise investment on infrastructure.
After three major U.S. stock indexes rose as investors piled into financial and healthcare stocks on hopes of weaker regulation than was expected from a Hillary Clinton presidency.
Pharmaceutical stocks, seen as vulnerable to price caps under the Democrats rallied. Pfizer surged 6.89%, Mylan by 4.88%, and Biogen by 8.21%.
Bank stocks, which had also been seen as vulnerable to tougher regulation in a Democratic-led Washington, pushed higher. JPMorgan Chase jumped 4.6% and Bank of America 5.71%.
Caterpillar was another winner, surging 7.7% on anticipation of greater infrastructure spending.
"The fact the Republicans control all three branches of government made a lot of people think that some of Trump's ideas that were pro-business - lower taxes and lower regulation - could actually be passed," Rick Meckler, president of investment firm LibertyView Capital Management in Jersey City, New Jersey.
However, policy uncertainty ahead of January's inauguration could cause volatility on the markets: "Trump doesn't have a history in government that people can look back at," said Mr Meckler. "Whatever he has to say in the coming weeks will have an oversized effect on the market."